London mayoral election: Margaret Hodge pulls out of race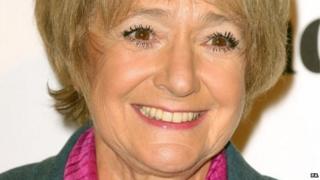 Labour MP Margaret Hodge has pulled out of the race to become the next London mayor and has urged the party to choose an ethnic minority candidate.
She said the time was "right for us to have a non-white mayor" when current mayor Boris Johnson steps down in 2016.
Ex-minister David Lammy and shadow justice Sadiq Khan have both declared their intent to seek nomination.
Mrs Hodge, MP for Barking, had been touted as a potential candidate but had not officially put herself forward.
Speaking to the Evening Standard, she confirmed she would not stand for election, saying: "London is a diverse city but we are poor at representation. But let's wait and see what the candidates say they can do for London."
She said Mr Lammy was "a really important symbol" of modern London, while Mr Khan also had "a good story to tell" and was an "assertive fighter".
'Don't write me off'
Veteran Hackney MP Diane Abbott is also among ethnic minority politicians tipped as a potential mayor but Mrs Hodge described her as a "feisty woman" who was "the most distant from my own politics".
The 70-year-old MP did not rule out seeking a return to the frontbenches if Labour returned to power in Westminster in May, perhaps at the Treasury.
"I do have an understanding of public finances that I didn't have before when I was a minister," she said.
"I'm privileged at my stage in life to have choices. Don't write me off yet."