London Mayor Boris Johnson heads to US on trade mission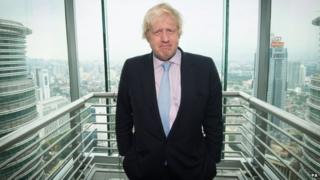 Boris Johnson is heading to the United States on a six-day trade mission aimed at bolstering London's science and technology industries.
London's mayor starts the east coast tour in Boston on Sunday before heading to New York City and Washington DC.
Mr Johnson will also join his New York counterpart Bill de Blasio for talks aimed at boosting links between the two cities.
London exports to the US are worth about £4bn a year, City Hall says.
Terrorism fears
New York City Police Commissioner Bill Bratton is expected to give Mr Johnson a rundown of how the city is tackling heightened fears about terrorism.
Mr Johnson will also head to the Smithsonian Institution in Washington to meet members of its board of regents - those responsible for the administration of the museum and research body - following an announcement last week that it is planning to open an outpost in London's former Olympic park.
The $50m (£32.6m) project would form a key part of the Olympicopolis cultural centre expected to open on the site in 2021.
Mr Johnson wants to use the trade mission to promote London's TechCity - which supports the cluster of technology firms based in east London - and MedCity, which was launched last year to support life sciences.
He will visit Harvard University's Stem Cell Institute to call for collaboration between London and Boston in life sciences and will also meet scientists at the Massachusetts Institute of Technology (MIT).
Mr Johnson - who was born in Manhattan in 1964 and has a US passport - said: "I want London to capitalise on the great relationships we have in Boston, New York City and Washington DC.
"As well as exploring the creativity and innovation that will be key to our future success, I particularly want to maximise the opportunities presented by London based TechCity and MedCity."