Woman cyclist killed in central London truck crash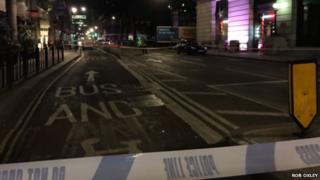 A cyclist died when she was knocked down by a truck in central London.
The 25-year-old woman was pronounced dead at the scene of the collision in Vernon Place, near Bloomsbury Square at 21:20 GMT on Friday.
Met Police said the woman had not been identified as they were in the process of informing next of kin. No arrests were made.
The woman is the third cyclist to be killed on London's roads so far this year.
'Urgent action'
On Monday a 34-year-old man was killed in a collision with a lorry in Hackney, east London.
On 20 January 29-year-old Stephanie Turner was killed, also in a collision with a lorry, in Amhurst Park, north London.
Rosie Downes, from London Cycling Campaign, said: "This latest tragic fatality - the third of 2015, and in an area where four cyclists have been killed in the last six years - highlights the urgent need for action to stop these needless deaths.
"The measures to be brought in through the Safer Lorry Scheme in September are welcome, but avoidable risks will still remain.
"Our streets and junctions must be urgently redesigned to remove the danger to the thousands of cyclists who pass through this area every day.
"Our thoughts are with this woman's family and friends."