Campaign groups criticise Tube tunnel cycle route plan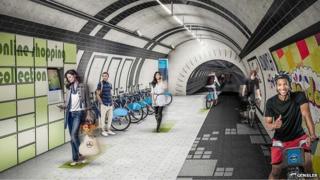 Cycling campaign groups have criticised a concept design proposing cyclists use disused Tube tunnels to get around London safely.
Design company Gensler won an award for its concept using "an untapped surplus of disused space".
A cycling campaign group has called the Underline scheme "ludicrous".
Transport for London said there were no usable tunnels of significant length. On Sunday, a third cyclist was killed in less than six weeks.
The scheme follows previous designs proposed to create elevated and floating cycling routes as cycling in London has grown in popularity.
Ian Mulcahey, of Gensler London, said: "The adaptation of surplus and underutilized Tube and rail tunnels could provide a quick and simple addition to our infrastructure network."
The idea received some support on Twitter, with one user for example, calling it "amazing".
But Jim Davis, who works for an architecture firm and founded the Cycling Embassy of Great Britain said: "Sticking cyclists in a tunnel is ludicrous."
He said he was frustrated progress lags behind other European countries such as the Netherlands and added: "It's a novel idea but find me an architecture firm that will design the perfect junction. The answer has been across the North Sea for 40 years."
Rosie Downes, campaigns manager at London Cycling Campaign, said: "Ideas to put cycles in the sky, or underground, rear their head every so often.
"They are completely counter to the principle that cycling should be made an attractive and convenient option, and perpetuate the incorrect notion that there isn't enough space above ground to provide Dutch-style solutions."
A Transport for London (TfL) spokeswoman said: "We welcome all ideas to support the mayor's vision to get more Londoners cycling.
"However, there are no disused tunnels of significant length that are not part of our operational railway."
Previous concept schemes have included Sir Norman Foster's SkyCycle - a 136-mile (219km) route utilising the space above railways.
A TfL spokesman said that scheme was "not being actively progressed".