London Mayor hopeful Stephen Greenhalgh in reduced Tube fare clash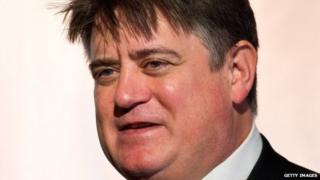 One of Boris Johnson's deputy mayors has clashed with Transport for London (TfL) after claiming he could reduce Tube fares in the capital by 3%.
Stephen Greenhalgh, the mayor's deputy for policing, said he could cut fares by 3% every year for four years, if he succeeded Mr Johnson at City Hall.
But TfL said this could only be done by reducing investment or service cuts.
Mr Greenhalgh sparked the row as he set out his bid to become the next Conservative mayoral candidate.
His claims have left the mayor facing awkward questions about why - if it was possible to reduce fares in this way - he had presided over big increases for most of his mayoralty.
Mr Greenhalgh said he could make the dramatic annual fare cut by "overhauling Transport for London's back-office functions, slashing non-operating costs and introducing cost-effective technologies more quickly".
Within four years, he claims, Tube users would be paying £1.15 less for a Zone 1 cash fare, nearly £30 less for a Zone 1-2 monthly travel card, and would save £362 on an annual Zone 1-3 travelcard.
Over the four-year mayoral term, cheaper fares would mean Londoners saving:
£770.75 on an annual Zone 1 Travelcard.
£905.21 on an annual Zone 1-3 Travelcard.
£1,407.03 on an annual Zone 1-6 Travelcard
Mr Greenhalgh said the mayor had needed fare increases in the past to provide investment but that now had to change.
He said: "Some people struggle to earn in the first hour of their shift what they have just paid to get to work.
'Cynical announcement'
"London needs more transport investment but we can't keep expecting passengers to shoulder the burden - more should come from businesses and developers who directly benefit when new Tube lines are opened."
But TfL pointed out that London's population had just reached a record level of 8.6 million, and would grow to 10 million by 2030, needing much more investment.
A TfL spokesperson said: "Reductions in fares of the level suggested... would reduce our income by a total of around £3bn by 2020-21.
"This would inevitably result in cuts to current plans to improve and expand London's transport network."
Labour London Assembly Transport Spokesperson, Val Shawcross, described Mr Greenhalgh's plans as showing the "wheels totally coming off Boris's mayoralty".
She said: "This is an incredibly cynical announcement from Stephen Greenhalgh, given that for seven years he has been silent on Boris's fares hikes and has helped to prop up a mayor who has raised Londoners' travel fares by over 40%.
"We have to ask why he continues to serve in Boris Johnson's administration at huge taxpayer expense, despite clearly harbouring massive doubts about his policies."
Mr Greenhalgh is due to fly out of London tonight to join the mayor in New York.