Tube drivers vote to go on strike over colleague sacking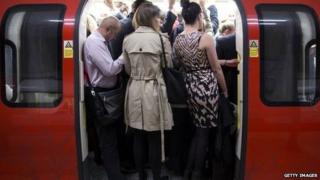 Drivers on London Underground have voted to go on strike over the sacking of a colleague for failing an alcohol breath test.
The Rail, Maritime and Transport union said the type of breathalyzer used did not account for people with diabetes.
Members voted by 299 votes to 221 to take action. The turnout was 42%.
London Underground (LU) said the driver had been dismissed for failing two random breath tests which were not affected by the condition.
It said the case had gone through a full disciplinary hearing and appeals process, as well as a separate independent director's review.
'False result'
The transport authority said it had explored in detail the suggestion that diabetes could affect the breathalyser result, but concluded that the type of test it used was not affected by acetone, which is produced in the bloodstream of people with the condition.
RMT Regional Organiser John Leach said the union was asking for further testing to be carried out when a breathalyzer gave a positive result.
"The current system is unfair because it doesn't offer safeguards to those with disabilities or who are on certain diets," he said.
"One of LU's own doctors conceded that type 2 diabetes, liver disease and even fasting can give false positives on hand-held machines."
Nigel Holness, the operations director on the Jubilee, Northern and Piccadilly lines, said: "You wouldn't let someone who had been drinking alcohol drive your family in a car, and we don't let people who have been drinking alcohol drive people's families in Tube trains.
"As we have made clear, strike threats will not alter our commitment to safety, nor will they make us consider reinstating a driver who failed two alcohol breath tests."
LU said the number of drivers who had voted to take strike action represented 8% of all drivers.
RMT General Secretary Mick Cash said his union would now consult extensively with its representatives before deciding its next move in the dispute.
Legally, the union needs to give seven days' notice but the RMT said it was unlikely that industrial action would be held that soon.
"The union remains available for talks, at [conciliation service] Acas if necessary, and, as we have already stated, we are ready to abide by any decision made at an employment tribunal and cannot understand London Underground's reluctance to agree to that course of action," he said.
In December, RMT workers held a 24-hour strike on the Northern line over the same issue.
A date has yet to be fixed for this latest action.