King's Cross and Paddington Christmas rail chaos affected 115,000 passengers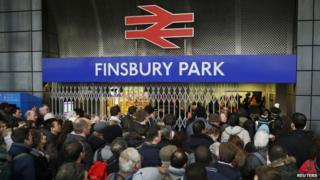 More than 115,000 rail passengers were caught in "widespread confusion and frustration" when Christmas engineering work by Network Rail overran.
A report by the Office of Rail Regulation (ORR) said the delay led to "unacceptable" service levels.
The late-finishing work saw King's Cross Station closed on 27 December and Paddington for part of the day.
This caused chaotic scenes at Finsbury Park as passengers were unable to disembark due to overcrowding.
'Such a shambles'
The ORR's railway markets and economics director Joanna Whittington said although Network Rail (NR) "generally has a good record" for completing engineering work on time, in this instance "passengers were really let down".
Manuel Cortes, leader of the TSSA rail union, said: "This report reveals that the post-Christmas chaos was such a shambles because NR tried to substitute a small suburban station, Finsbury Park, for mainline King's Cross which has 12 platforms.
"Any schoolboy knows you cannot get a quart into a pint pot. For some reason, no one at the top of NR seemed to know that basic fact."
The ORR report said:
The planning of the King's Cross work did not take proper account of the impact of failing to hand back a working railway line on 27 December;
A contingency plan developed on the evening of Boxing Day was ineffective and resulted in Finsbury Park becoming so overcrowded it had to be closed for a time;
Reporting of the progress of the works at Paddington was inaccurate so that the operational contingency plan was not enacted until many passengers had already been severely delayed.
The report said: "Passengers who travel between Christmas and the new year include families with young children, the elderly and vulnerable often travelling with lots of luggage in an unfamiliar environment.
"There were impressive examples of good service from individual members of staff but the overall service passengers received was not acceptable.
"It led to widespread confusion, frustration, disruption, discomfort and anxiety."
NR released its own report last month into the delays which acknowledged the company's failings.
'Unacceptable'
Ms Whittington said in future plans would address the impact on passengers as well as engineering and train operation issues.
NR chief executive Mark Carne said: "Over Christmas, we undertook the biggest programme of engineering and investment work ever, upgrading train lines across the country.
"The overwhelming majority of this work went to plan but in the case of King's Cross and Paddington we accept we got things wrong.
"Our own report has caused us to look again at the work we have planned this year and the contingency plans we have in place and the ORR's report underlines the necessity of this work."
House of Commons Transport Committee chairman Louise Ellman said what happened was "unacceptable".
Michael Roberts, director general of the Rail Delivery Group which represents operators and NR, apologised for what happened and said in the future train operators would publish individual plans to improve customer communications.