Samuel Guidera murder: Appeal over mystery phone number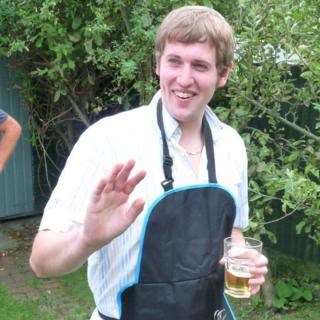 Officers investigating the murder of a student said someone dialled a number from his mobile phone, minutes before he was stabbed in the heart.
Samuel Guidera, 24, was attacked and robbed in Sydenham, south-east London, on 12 February 2011.
Police believe the student's killer may have got his attention by pretending they wanted to use his phone.
Det Ch Insp Chris Jones said he believed "the answer to this murder lies locally in and around Penge".
Mr Guidera, who was studying history and politics at the University of Greenwich and wanted to be a teacher, had spent the day watching football on television with friends before getting the 21:17 GMT train from Bickley to Penge East, arriving just before 21:30 GMT.
He was on his way to meet his girlfriend when he was killed.
Det Ch Insp Jones said: "At 21:48 Samuel's phone was used to dial 07404 776433, a number which is not connected to Samuel or anyone he knew.
"Seconds later, Samuel tried to call 999 but dialled 9999 and the call did not connect.
"I would be very interested to speak to anyone who has any information, no matter how small about this number specifically."
During the course of the investigation, detectives said they had followed and eliminated more than 1,000 leads, viewed hundreds of hours of CCTV and spoken to nearly 900 witnesses.
Police said Mr Guidera was last seen at the bus stop opposite Bailey Place, at about 21:38 GMT.
He crossed the footbridge over the railway to the Newlands Park exit and was later found collapsed in the street at Bailey Place.
Mr Guidera's family and friends have made repeated appeals to help find his killer.