Police officer treated by RNLI after ambulance delay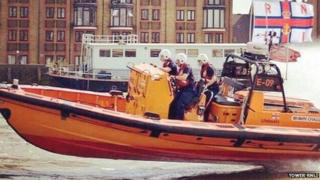 A lifeboat charity dispatched a paramedic to tend to a "seriously injured" policeman after he spent more than an hour waiting for an ambulance.
The British Transport Police (BTP) officer broke his ankle while dealing with a drunk man on a train at London King's Cross on Thursday.
An hour after London Ambulance Service (LAS) was called the man's colleagues phoned the coastguard for help.
LAS said it had to "prioritise patients in... life-threatening conditions".
Officers first made the call to the ambulance service at 20:30 while the train service was held.
An hour later the officer's colleagues contacted the coastguard for help, who in turn alerted Tower RNLI which was able to send a paramedic.
An NHS motorcycle paramedic followed 28 minutes later and an ambulance arrived at 22:30 enabling the officer to be taken to hospital.
The RNLI said it was able to agree to the "unusual request... without it affecting the operational capability of the lifeboat station" as an extra paramedic was working at the time.
In a statement, LAS, said: "We are very sorry that we couldn't get there as soon as we would have liked and for any distress this caused, however, we receive over 5,000 calls a day."
BTP said the officer remains in hospital four days after sustaining the injury and has undergone surgery.
A 34-year-old man, from Letchworth Garden City in Hertfordshire was charged with assault following the incident and is due before Westminster Magistrates' Court on 27 February.