London chemist attacker grabbed boy, 1, by throat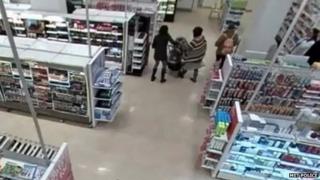 A woman who reached into a pram and grabbed a one-year-old boy by the throat is being hunted by police.
The child's mother told police the suspect said: "That baby would rather be dead."
CCTV footage of the incident, which happened in a chemists on the Strand in central London on 16 January, has been released.
Officers said the boy escaped injury because the mother quickly pushed the woman away,
Police want to trace the woman, who was escorted from the shop by a security guard after the incident.
She is described as a white woman, aged in her early 60s, with light hair. She was wearing a white, red and grey striped poncho and a deer stalker hat.
Police said the mother initially thought the woman was "going to just look and fuss over her baby" but the CCTV shows her quickly grabbing the woman's hand and moving the pram away from her.