Olivia Stanca, aged one, has life support withdrawn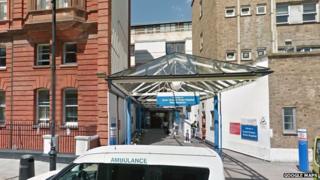 A couple dropped a High Court battle over a decision to withdraw life support from their one-year-old daughter after accepting nothing more could be done, their lawyer said.
Olivia Stanca, whose birthday was last week, died at Great Ormond Street Hospital overnight.
She was born with cancer and developed complications from her treatment, said solicitor Anne-Marie Irwin.
The hospital trust was due to ask for permission to discontinue life support.
Olivia, daughter of Maria and George Stanca, from Walthamstow, east London, was born with a tumour on her adrenal gland which spread to her liver.
She successfully underwent chemotherapy treatment but suffered blood infections and multiple organ failure.
'Best interests'
Ms Irwin, an associate solicitor with law firm Irwin Mitchell, told BBC London 94.9: "She spent her short life in intensive care.
"She was very loved by her parents, but sadly she was very unwell for that year and her birthday was just last week.
"The issue for the court to decide was what was in this child's best interests and whether there was any chance of survival or purpose to the treatment.
"In the end, events overtook us and her parents took the view that the best course of action was for Olivia to be allowed to pass away with them at the hospital."
On Wednesday, Mr Justice Moylan, sitting in the Court of Protection, was told Mr and Mrs Stanca had accepted Olivia's life was ending and agreed to life support being withdrawn, following a rapid deterioration in her condition.
Fiona Paterson, appearing for the trust, told the judge the parents "now accept an end-of-life plan is necessary".
She said: "One of Mrs Stanca's dearest wishes was to take her daughter to a park to be alone with her and her husband."
The family was to be accompanied to the hospital's roof garden by two nurses.