Camberwell Old Cemetery petition signed by thousands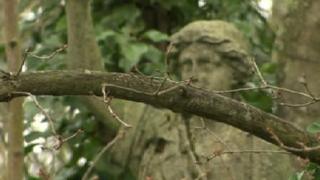 Thousands of people have signed a petition against plans to landscape a south London cemetery to create room for about 1,000 burial plots.
Southwark Council said it only had enough burial spaces available to last another two to three years.
Local campaigners said the work within Camberwell Old Cemetery would involve destroying much-loved woods and want the area turned into nature reserves.
But the council said the work would involve clearing an overgrown area.
'Haven of habitats'
Campaign group Save Southwark Woods, which wants the area turned into local nature reserves, said the work would mean felling more than 30 mature trees.
A spokeswoman said: "These wonderful woodlands are home to protected species, a wild tangle of trees and undergrowth, a haven of habitats and they are valuable to nature, to people and to the future."
They said 3,396 people had signed the petition.
The council said the area, which is currently out of bounds, was badly damaged after being used as an illegal dumping ground.
Labour councillor Darren Merrill, cabinet member for environment, said the authority wanted to bring the cemetery back into full use.
"For years now, sections of the cemetery have been fenced off and left in disarray," he said.
Several public consultations over the plans have been held, including a public meeting earlier this month.