Lutfur Rahman accuses Labour of 'institutional racism'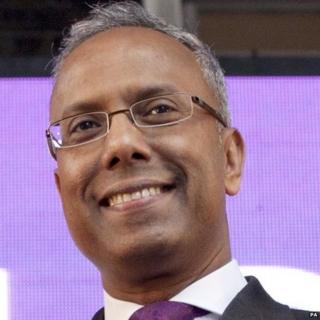 The mayor of an east London borough who is accused of electoral fraud has told a judge that the Labour Party bears "hallmarks of institutional racism".
Tower Hamlets mayor Lutfur Rahman, who denies any wrongdoing, was giving evidence in a special trial at the High Court.
Mr Rahman said he "felt a degree of ambivalence" from Labour's hierarchy.
He had been part of a "new generation of ethnic minority candidates" in the party, he said.
Four voters have taken legal action against the mayor, under the provisions of the Representation Of The People Act.
They want Election Commissioner Richard Mawrey, who is sitting as a judge at the trial, to declare void the result of the May 2014 mayoral election, which saw Mr Rahman elected for a second term, and order a rerun.
'Ruffled feathers'
Mr Rahman is the former Labour leader on Tower Hamlets Council and now leads Tower Hamlets First (THF).
He told the hearing: "I believe I ruffled feathers in the party hierarchy.
"The Labour Party is not racist in the overt sense but I believe it, like many other organisations, still bears some of the hallmarks of institutional racism.
"In my experience this often meant identifying ethnic Bengali activists or councillors as 'Bangladeshi activists' or 'Bangladeshi councillors' and seeing them as responsible for delivering the Bangladeshi vote."
Earlier on Monday while giving evidence, Mr Rahman also apologised for forgetting he had signed off his own party's constitution.
Signatures 'forged'
Mr Rahman formed THF in 2013, but said on Friday he had not seen a formal constitution and was not aware of any bank accounts.
However, he went on to apologise for this, blaming memory loss. He said: "I made a mistake. I am sorry."
He was also cross-examined about a petition from 2010 calling for a referendum on whether the borough should have a directly elected mayor.
Barrister Francis Hoar said 50% of the signatures on the document were forged, and accused Mr Rahman of instigating this - a claim he denied.
Mr Rahman is expected to give evidence for three days.
The trial started earlier this month and is expected to end next month.