Wealthier Hoxton tenants 'could pay more rent'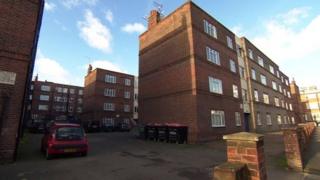 The wealthier tenants on an east London housing estate could pay more rent than their neighbours in an idea suggested by their housing provider.
Dolphin Living is considering charging rent by using a means-tested scale at the New Era estate in Hoxton.
Last year tenants campaigned over fears an ex-landlord could triple their rent.
Dolphin said the plan was in its very early stages and it would discuss the idea with each individual tenant next month.
Last December residents were concerned they would have to move on after it was bought by an American property developer which, it was feared, would increase rents.
However, after a high profile campaign, involving comedian Russell Brand, the owners decided instead to sell to the affordable housing group Dolphin Foundation.
Jon Gooding, chief executive of Dolphin said: "The residents were very upset and angry before Christmas because they thought the new landlords weren't listening to the situation they were in and many felt they couldn't afford to pay the rent.
"When we took over we promised them a rent reprieve so we had plenty of time to talk calmly. This is the first stage of a discussion and not a fully formed proposal. There's a lot more thinking we need to do."
Mr Gooding said the principle, called personalised rent, was "complex" and would require "a lot of transparency" and largely rest on the tenants and how much information they would be prepared to surrender to the landlord to make a "good quality assessment".
He said the vast majority of current tenants were working people earning about £31,000 and it was hoped a rental agreement could be found which would offer them a "good quality of life in London".
The rent they currently pay is between £150 and £200 per week, which Mr Gooding said was "about 40-45% below the market value, so even if some people had to pay more they would still be paying rent below the market rate".
"I think there's a wonderful opportunity to do something new and confound some of the cynics," he added.