Legal challenged to South Bank Shell Centre plan fails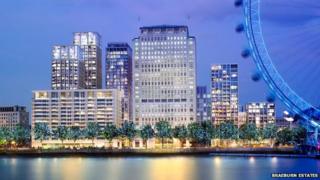 A legal challenge to a £1.3bn plan to redevelop part of London's South Bank has been rejected by the High Court.
The judge dismissed writer and activist George Turner's accusation that the grant of planning permission was legally flawed.
The challenge was rejected even though the judge said an inquiry inspector's conduct appeared to be "consistent with judicial misconduct".
Lambeth Council and Boris Johnson both passed the scheme in 2013.
Houses, offices, shops and restaurants are to be constructed around the existing 27-storey 1961 Shell Centre.
Mr Turner argued planning permission granted by Communities Secretary Eric Pickles after a 2013 planning inquiry be quashed.
Mr Justice Collins said he was "seriously concerned" about the conduct of the local government inspector who presided at the public inquiry in 2013 and recommended planning approval.
There had been "clear procedural impropriety", and the inspector appeared to favour counsel for the applicants for planning permission.
'Flawed'
The judge ruled that Mr Turner had suffered difficulties putting his case as a result of decisions made by the inspector, but he was not seriously prejudiced or prevented from putting forward his evidence, and the inspector was entitled to prefer the developers' case.
Dismissing the legal challenge, the judge added the inspector's conclusions "were properly based on the evidence before him".
Mr Turner led residents' opposition to the 134,700 sq m (1,449.9 sq ft) mixed-use scheme.
Objectors included English Heritage, the Twentieth Century Society and Westminster Council.
Planning approval was defended by Mr Pickles, the Mayor of London and the Borough of Lambeth, and the scheme's developers.
The proposals - from the Canary Wharf Group and Qatari Diar joint venture Braeburn Estates - will see eight new buildings around the original tower.
Opponents claimed the development damages views of the Unesco World Heritage Site of Westminster Palace from Green Park.