Toddler in 'hello and goodbye' prison visit to father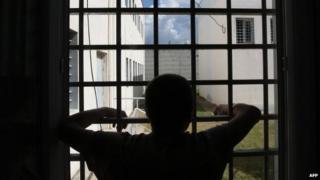 A toddler will be introduced to her jailed father for the first time in a "hello and goodbye" visit before being taken into care.
The daughter of a former prostitute will meet the 51-year-old convicted burglar, following the ruling of a family court judge in Croydon.
Judge Aileen Downey said the girl should be put up for adoption as her mother was unable to provide care.
She said she was confident the 16-month old would be safe during the visit.
The decision to place the girl in care followed a case brought by the London borough of Bromley.
'Hello and goodbye'
Social workers gave evidence at the hearing attended by the girl's mother, who also has a history of drug abuse.
The mother, who cannot be identified to protect the child's identity, wanted to look after her daughter and opposed the adoption.
But Judge Downey said the woman was unable to care for her child owing to her "own neediness".
A DNA test confirmed the incarcerated man was the father, but he had never met the girl, said the judge.
He requested the "contact session" but did not seek parental responsibility, according to a written ruling from the south London court.
Social workers agreed to a "one-off, hello and goodbye" visit.