Homes evacuated after Romford house collapse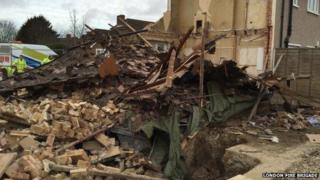 A number of homes were evacuated after a house "completely collapsed" and fractured a gas main.
The two-storey house, at the end of a terrace in Romford, was under construction when it fell, the London Fire Brigade (LFB) said.
Watch manager Jason Frisby said no-one was in the house when it collapsed at around 06:20 GMT.
He said if it had happened when builders were working they "may not have been quite so lucky".
Mr Frisby said the building damaged a gas supply main, forcing the evacuation of eight people from neighbouring properties.
They were allowed back into their homes at around 11:10 GMT.