Anne Naysmith: A gifted pianist who lived in a car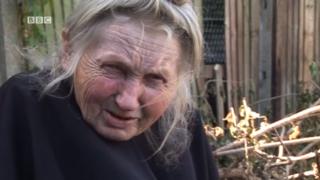 Former concert pianist Anne Naysmith performed in some of London's most prestigious classical music venues but also spent half of her life living in a dilapidated 1950s Ford Consul and sleeping rough. As her funeral is held in west London, BBC News looks back at her life.
Miss Naysmith, who has died aged 78, was a celebrated character in Chiswick where residents described her as erudite with an angelic voice.
Her later years roaming around London in shoes made from pigeon feathers and bin bags were preceded by a scholarship at the Royal Academy of Music and a stint as a piano teacher.
In the 30 years she was homeless, she repeatedly rejected any offers of help, in the form of a boiled sweet or a house left to her in a will.
Sometimes her refusals were quite aggressive, such as when she reportedly threw a five pound note back in the face of a concerned passer-by.
The former pianist was born Anne Smith in 1937. Her mother was reportedly keen for her to take up a career in music, and she won a scholarship to the Royal Academy of Music when she was 18 years old.
She played at Wigmore Hall and St Martin in the Fields in Trafalgar Square and used to live in a three-storey house on Prebend Gardens.
Similar properties in the area are worth around £2m today.
But she was temporarily evicted in the 1980s and reportedly, around a similar time, endured a break up from her relationship with a choral singer.
She stayed in her battered car until it was removed by the council in 2002. Concerned neighbours protested against the removal by climbing on the bonnet in protest.
After a brief spell in a replacement car local residents had clubbed together to buy her, she took to sleeping in the doorway of the local Speakeasy School of English.
Director of the school Nick Jenkins said she used to arrive almost every night at around half 10.
He said she occasionally overslept in the morning and was not very quick at getting up so the staff used to go out for a coffee, to give her time.
"How she did it for so long in the wind and rain and snow was a medical mystery," he added.
Mr Jenkins said she "could be quite fierce and aggressive".
He remembered they once had a tug-of-war with a sign advertising the school - she had been routinely dragging it down the road and hiding it under a bus stop as it blocked her way.
"She won," he said. "We kept out of her way after that."
In her later years she became an ardent protector of nature and diligently tended to a patch of land at Stamford Brook Station.
Local councillor Paul Lynch said she was "extremely polite and erudite".
"But she was still rather obsessive about strange things," he said. "She thought flowers and bushes have more of a life than we think.
This is reflected in a tribute paid to Miss Naysmith in the Chiswick W4 forum by Steven Trembath, who remembered her strong dislike of drawing pins in trees.
Mr Lynch said she was public spirited and frequently picked up rubbish. Adept at survival, she was like Bear Grylls, he said.
The councillor said he thought the homeless woman's independence was tied up with her relationship with mother, who had reportedly been controlling and pushy.
"She saw any attempt to direct her life in the same way," he added.
He said she had added the Nay to her name in an effort to distance herself from her family.
Other comments in the local forum described her more colourful attributes.
"One day many years ago I heard her singing like an angel in the street," wrote Robert Fish.
He said soon afterwards she was mid-flight in a "foul-mouthed tirade" at someone who countered her removal of missing cat signs from trees.
Mr Fish added: "She graced Chiswick. Sometimes I felt sorry for her, but often I reflected that, with that fierce pride of hers, she probably never felt sorry for herself."
Miss Naysmith's funeral is being held at St Michael and All Angels Church, in Bath Road, Chiswick, at 1100 GMT. She will then be buried at Chiswick New Cemetery.