London Underground workers' strike concludes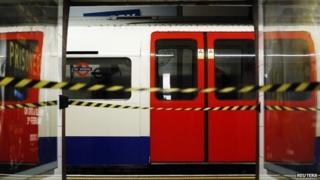 An overnight strike by London Underground (LU) staff in protest at the sacking of a Tube driver has ended.
Members of the Rail, Maritime and Transport union (RMT) walked out at 21:30 GMT on Saturday following the dismissal of one of its members, who had failed two alcohol breath tests.
The industrial action ended at 03:59 on Sunday.
While pickets were mounted at some stations, the strike passed without reports of disruption to travel.
LU said it had zero tolerance towards drugs and alcohol and the strike was "indefensible".
RMT said a faulty machine had recorded a positive test before and LU's policy was flawed.
The union said the Tube driver in question was diabetic and had an unblemished 29-year employment record.
It questioned the validity of the breathalyser testing method, which it said had provided false positive results in 2014 in the case of a depot manager from Acton.
London Underground had said before the strike began there was only a "small chance" it would cause disruption.
LU's chief operating officer Nick Brown said: "We will never compromise on the safety of our customers and staff.
"You wouldn't let someone who had been drinking alcohol drive your family in a car, and we don't let people who have been drinking alcohol drive people's families in Tube trains."