Athlete Jimmy Thoronka fund tops £20,000 target in 48 hours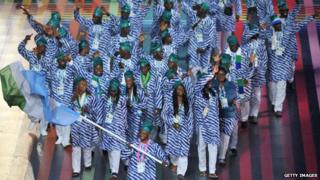 An appeal to help homeless Sierra Leone sprinter Jimmy Thoronka has reached its target amount of £20,000 just two days after it was set up.
The 20-year-old athlete was arrested on Friday and now faces deportation.
Thoronka did not return home to Africa after the Commonwealth Games in Glasgow last year amid Ebola fears and has been sleeping rough in London ever since.
Student Richard Dent, who lives in London, set up the appeal to help him "rebuild his life and career".
Mr Dent, who has never met Thoronka, told the BBC: "Obviously Jimmy broke his visa which wasn't great. But I believe he did this because he had a genuine fear for his life whilst under incredible stress given the loss of his family to Ebola.
"In my opinion, this is not an issue of supporting deliberate illegal immigration, this is about being humanitarians.
"People from all around the world have donated to Jimmy's fund; people who are not involved in the UK debate on immigration."
The Cambridge University student said whether the UK decided to deport Thoronka or not, the funds would help him rebuild his life and career wherever he ends up.
'No food'
Thoronka, who was his country's top 100m runner, says Ebola has killed his immediate family in Sierra Leone and he could not make it alone there so stayed with friends in Leicester before going to London.
"Some days I get no food at all. I wash in public toilets and sleep in the park," he told the Guardian.
The Met Police said he was arrested on Friday for immigration offences and is now with the UK Border Force.
A Home Office spokeswoman said only: "We cannot comment on individual cases, but there is assistance available for people to return home when they are not entitled to remain in the UK."
The fund was set up Friday afternoon and more than 1,000 people have contributed.