Abandoned Chevrolet Impala owner sought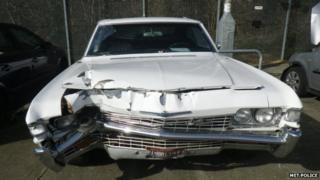 An abandoned classic car could be scrapped if its owner does not claim it in the next 10 days, police have said.
Joy-riders are thought to have stolen the white 1969 Chevrolet Impala before dumping it by the roadside in Sutton, south London on 17 February.
Met Police said the rare car has damage to the front and side likely to have been caused by a crash.
The car, which has a US number plate, will be scrapped or sent to auction for sale if it is not claimed by 20 March.
PC Jamie Stone, of Sutton Police, said attempts to find the owner had been unsuccessful so far.
Broken down
He said: "Unless we find the owner, this classic American muscle car faces being turned into soup cans, which breaks my heart a little."
PC Stone said he thought the Chevrolet may have been kept in a lock-up meaning the owner would not have been aware it was taken.
"This is the only opportunity we have to try and reunite it with its owner before it gets destroyed," he said.
Police will decide the fate of the car based on its condition. If it is not considered roadworthy, it will be broken down after auction.
The owner has until 20 March to get in touch with Sutton Police.