'Distinctive' marks on Tower Hamlets election ballot papers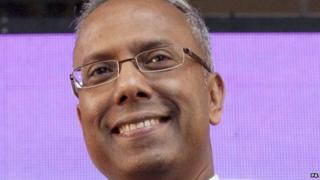 Ballot papers in an east London election had "distinctive" marks suggesting they could have been written by the same person, a court heard.
Handwriting expert Robert Radley gave details of tests he carried out after the 2014 elections in Tower Hamlets.
Four voters have taken legal action against independent mayor Lutfur Rahman, who denies any wrongdoing.
Mr Radley said it would be "highly coincidental" if the marks had been completed by different individuals.
In a report, Mr Radley told the judge at the Election Court hearing: "There is a high percentage of 'X' marks made in a particularly distinctive and idiosyncratic form."
He said that the "X" marks appeared to be from a relatively small number of specific groups of inks.
Tampering allegations
It was a "very high level of coincidence for such numbers of indistinguishable inks to appear if these ballot papers have been written with different pens", he said.
He said he could not "identify a particular individual or a number of different individuals" as having written a "large number of distinctive and idiosyncratic 'X' marks".
"I have examined many hundreds of ballot papers in a variety of cases over the last 37 years. I do not recall this particular feature in such quantities," said Mr Radley.
Four voters have mounted a legal challenge under the provisions of the Representation Of The People Act. They want the result of the 2014 election to be declared void and re-run.
Lawyers for the group have made a series of allegations including ballot paper tampering.
The hearing continues.