Gene sequencing for Bangladeshi and Pakistani groups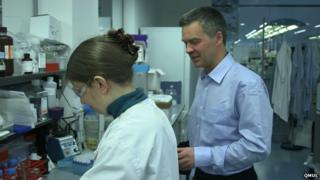 A genetic screening project will try to find out why Bangladeshi and Pakistani people in east London are more likely to suffer from certain diseases.
The project will aim to screen 100,000 people over the next year.
Doctors say the prevalence of diabetes in east London's Bangladeshi and Pakistani communities is around 14% greater than the general population.
South Asians are also three times more likely to develop heart disease than the general population.
The general population has around 2.8% prevalence of diabetes on average, compared to 16.5% in Bangladeshi and Pakistani groups, said Dr Anwar Khan at Waltham Forest Clinical Commissioning Group.
The project, led by Queen Mary University of London (QMUL), will look to recruit people from Newham, Waltham Forest and Tower Hamlets.
These boroughs have some of the lowest healthy life expectancies - the number of years people are expected to live in good health - in London.
Men in Tower Hamlets are expected to live 55.7 years in good health while women are expected to live 54.1 years, according to the Office for National Statistics (ONS).
The equivalent for Richmond is 70 years for men and 72 for women.
---
Case study: Shaukat Khan, 66-year-old of Pakistani origin, from Leytonstone, Waltham Forest
I have diabetes and high blood pressure and I'm having my genes sequenced as I want to know what the causes are behind the major health problems we have in the Pakistani community.
In the world we live in, with modern technology, I am not frightened about the result. I think it is important not to bury my head in the sand.
Perhaps it can help me understand my own issues, not a generic but an individual way. And at least I can help my children.
---
Dr Khan said people lose "one year of life" for each station on the central line travelling out through east London to Leytonstone.
He said he wanted to understand the causes for the higher prevalence of diseases in certain ethnic groups, to evaluate current treatments, develop better ones and help educate people.
"One issue is that as doctors we often use people's risk data in studies about white Americans. There are very few studies looking at the Asian population," he said.
He will look at medical records and the genetic code from saliva samples sent by volunteers into QMUL to understand how genes, diet and lifestyle affect their health.