Southall primary school in 'religious' eclipse view ban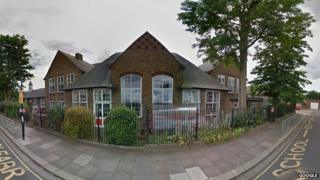 Pupils at a primary school were stopped from watching the solar eclipse due to "religious and cultural concerns".
North Primary School in Southall, London, told children they must stay inside to watch the event on TV screens.
In a statement, head teacher Ivor Johnstone said he made the decision after he became aware of "religious and cultural concerns associated with viewing an eclipse directly".
He apologised for any disappointment.
'Confidential' reasons
Phil Belman, the father of a seven-year-old girl at the school, told the Evening Standard his daughter had spent an hour making a pinhole camera at home in order to view the sun.
Mr Belman reportedly said he had asked the head teacher to specify which religions and cultures objected to viewing the eclipse but was told such information was confidential.
North Primary, which is not a faith school, describes itself online as "multicultural with a welcoming ethos".
Mr Johnstone said the overcast conditions in west London meant children would not have been able to see the eclipse "live" in any case, he added.