Pensioner attacked in her sleep and 'left for dead'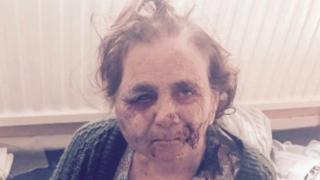 An 83-year-old woman with Alzheimer's disease was beaten up by burglars who stamped on her face and "left her for dead", her daughter told the BBC.
Zallu Hassan was asleep in her home in Ilford, East London, when it is thought she was dragged from bed and attacked.
Tulay Ahmadi, Ms Hassan's daughter, said her mother has what looks like a footprint on the side of her face.
The family were "rallying around" Ms Hassan in hospital trying to get her back to normal, she said.
'Very nasty' occurrence
They have offered a £10,000 reward to anyone with information about the attack on at her home on Eastern Avenue on 9 March.
Ms Ahmadi said: "The condition that they left my mum in was almost for dead. She had horrific injuries to her face, blood, she was bleeding coming out of her ear.
"My family and I believe they left her for dead. My mum didn't have anything of value, there was no jewellery, no money.
"There was no gain here apart from destroying her life."
The pensioner has been left in a "reclusive state", said Ms Ahmadi, as she cannot get out of bed, walk unaided or go to the bathroom on her own.
Detective Constable Pat Conway told the BBC: "In my 12 years as a detective I have very rarely come across something this nasty - it is a very rare occurrence."