Pair jailed for attempted murder in gang feud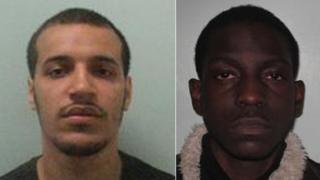 Two men have been jailed for attempted murder after conspiring with a "hit-man" to carry out a gang assassination.
Christopher Annan, 24, of Whetstone, was sentenced to 29 years in prison and Tyrone Wright, 20, of Leyton, received a 20 year jail sentence at the Old Bailey on 8 April.
Annan and Wright were hired by a north London gang to shoot a rival in a long-running feud, police said.
The men attempted to murder Inan Eren in 2012, along with Jamie Marsh-Smith.
Both men, who were not members of either gang, had denied the charges.
In July 2014, Marsh-Smith was jailed for at least 28 years for the attempted murder of Inan Eren and the murder of Mr Eren's cousin Zafer Eren, who was killed in April 2013.
The attacks were part of a long-running feud between two gangs, the Tottenham Turks and the Hackney Turks which had resulted in a number of incidents in London, some involving guns, police said.
Inan Eren was shot as he returned to his home in Forest Road, Enfield, on 30 December 2012, police said.
Officers said he was hit three times by gunman Marsh-Smith but he survived the attack.
Det Ch Insp Noel McHugh said: "The sad reality being they wouldn't even have been paid much money for their part in the attempt to murder him.
"They were motivated by money and had no dispute with their victim."