Edwin Mee: 'Slapping girls bottoms' was not a 'habit'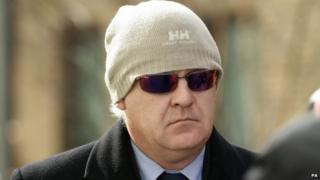 An army sergeant accused of sexually attacking 11 female cadets has denied he was in the "habit" of smacking their bottoms as they left his office.
Edwin Mee, 46, is accused of exploiting his position of trust and power to abuse or rape women while working at Army offices in Croydon, south London.
Mr Mee, of Tavistock Road, Croydon, denies the allegations.
A number of the women said he slapped their bottoms as they came into or left the room, Southwark Crown Court heard.
Prosecuting, Rosina Cottage asked the sergeant if he felt it gave him "power" over the women.
Sexual pleasure
"It is a habit, isn't it - to slap them on their bottoms," she said.
He replied: "No ma'am, there is no habit to slap anyone on the bottom."
Mr Mee, who was a recruitment sergeant, said he could not have gotten any sexual pleasure from the acts as they "never" happened.
One of the alleged victims claimed the sergeant had told her he had caught his wife cheating before asking her out for coffee.
But Mr Mee told the court he had no recollection of the cadet.
He said he thought the girl had been lying about the incident, along with another where he allegedly asked to see her piercing.
Mr Mee denies 17 counts of sexual assault, three rapes and one count of assault by penetration.
The case continues.