Preacher Abdul Hadi Arwani death: Man in court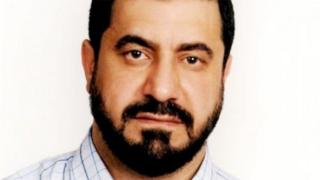 A man has appeared in court charged with two offences relating to the death of a Syrian-born preacher.
Abdul Hadi Arwani, 48, was found shot dead in his car on 7 April in Wembley. He was believed to be a critic of Syria's President Bashar al-Assad.
At Camberwell Magistrates' Court, Khalid Rashad was accused of possession of an explosive substance and possession of ammunition for a firearm.
He was remanded in custody to appear at Harrow Crown Court on Monday.
Mr Rashad, 61, from Wembley, was charged on Friday in relation to the investigation which the Metropolitan Police said was "ongoing".
On 7 April, a 36-year-old man charged with Mr Arwani's murder was remanded in custody, to re-appear in court on 28 April.