Tower Hamlets: Government in 'rotten administration' clean-up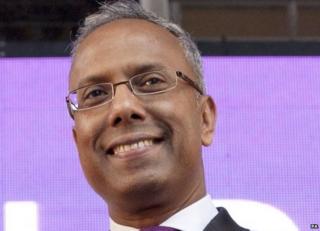 Election officials in a London borough whose mayor was thrown out for electoral fraud will be given temporary extra powers under government plans.
Communities secretary Eric Pickles acted after describing the Tower Hamlets administration as "rotten", in the wake of Lutfur Rahman's conviction.
Mr Pickles said: "We will take whatever action is necessary to ensure a free and fair [mayoral by-election]."
He said particular concerns included the destruction of official documents.
Last week, former mayor Mr Rahman, who denies any wrongdoing, was found guilty at the High Court of corrupt practices.
'Need stronger checks'
As a result, the court declared the mayoral election of May 2014 void and must be re-run. Mr Rahman is barred from standing.
He is believed to be planning a challenge to the court's ruling, which removed him from office with immediate effect.
In a statement, Mr Pickles said: "There is a clear need for stronger checks and balances in the run up to the mayoral by-election, especially given many of the associates of the tainted mayor remain in place.
"The Commissioners have identified a series of concerns about the ongoing running of the council, including the destruction of documents."
The proposed new directions would be reviewed following the election of the new mayor, with a view to ending the additional powers by 31 October or earlier if appropriate, Mr Pickles added.
Tower Hamlets Council has until 6 May to respond to his proposals.
'One-man band'
Chris Allison, former Assistant Commissioner of the Metropolitan Police and Alan Wood, who has a background in children's services, have been appointed new commissioners to the team, headed by Sir Ken Knight.
The secretary of state has also ordered the council to appoint a Head of Paid Service, who will be responsible for managing all the council's staff and exercising delegated executive functions.
In a statement on his website, Mr Rahman said he would appeal against the High Court's ruling.
The statement reads: "Lutfur Rahman will be appealing the judgement made against him at last Thursday's election court. He continues to reject all claims of wrongdoing and we hold that the integrity of the court system was marred by the bias, slurs and factual inaccuracies in the election judgement.
"Tower Hamlets First councillors reject the election court's claims that we are nothing more than a 'one man band'."