Life on the General Election trail in London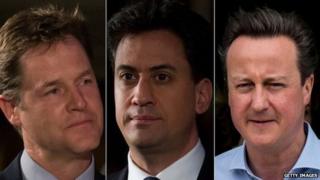 BBC London 94.9's political correspondent Susana Mendonca has been on the campaign trail for the past month following party leaders around the capital, but how close has she managed to get?
I am looking for a political rally … people cheering in the street, banners waving, that kind of thing.
As I walk down a road lined with high-rise flats and not many people about, I start to wonder whether I am in the right place.
Eventually I hear the muffled sound of cheering coming from inside a community centre.
I have found the spot. The banners, the crowds, the leader, they're all crammed in.
It's standing room only at an event in Acton in west London that is for party members only and the press, of course.
The TV cameras and radio microphones are needed to get the party message out.
I have come along because I have been promised an interview and I do get a full five minutes, which surprises me as that is the longest interview I have had with any party leader during this election campaign.
Usually I get a couple of minutes with press officers tapping me on the shoulder - with some even poking me in the back - to tell me to wrap it up.
But this time I use one of my rare extra minutes to ask why the main party leaders are not roaming free and getting up close and personal to un-vetted members of the public.
"Are you worried about having a 'Gillian Duffy moment'?" I ask.
She is the woman who former Labour Prime Minister Gordon Brown referred to as a bigot in an unguarded moment involving a radio microphone during the 2010 General Election campaign, which probably helped seal his party's fate.
In Acton the answer to my question is delivered - minus any reference to Gillian Duffy.
"I've been out on the campaign trail, I meet people from all walks of life," I am told by Labour Party leader Ed Miliband.
However, it could just as easily have been the words of his Conservative rival David Cameron.
Many of the Conservative leader's visits around London have been equally cocooned.
At a nursery in Surbiton, only one camera crew was allowed to go in with him as he spoke to pre-vetted mums.
As for the rest of the press, a little army of around 15 of us waited patiently outside.
I was then ushered in to ask my two questions, which I stretched to four, until the tap-tapping on my shoulder brought that to an end.
Two minutes is not nearly enough time to hold a politician to account, especially when the responses go on for at least a minute and do not fully answer the question.
However, it is an interview with a party leader so you have to take what you can get.
Some politicians have appeared more hands on, out and about in London.
I have seen Liberal Democrat leader Nick Clegg mobbed by chanting health campaigners in Carshalton, in south-west London.
And London mayor and possible future Tory leader Boris Johnson getting close enough to be stroked by the selfie-seekers in Uxbridge in west London.
And sure, both Ed and Dave have spoken to real people and done the occasional walkabout, but the ever vigilant armies of back-watchers control what they can, to avoid the kind of chance encounter with an unpredictable voter that could take the show off the road.