Clapham Junction and Victoria rail chaos caused by 'error'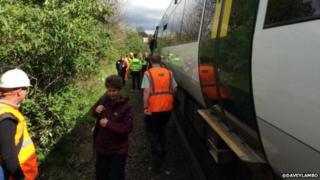 Rail chaos that left commuters trapped on a train for five hours and disrupted thousands more was caused by an engineering mistake, Network Rail said.
The problem between Wandsworth Common and Clapham Junction caused the suspension of trains in and out of Victoria last Thursday.
Network Rail said it believed the conductor rail - which supplies electricity to trains - was not put back in place after engineering work.
It "apologised" to all those affected.
Thousands of people were stranded during morning rush hour and it caused knock-on delays through the night because trains were in the wrong locations.
London Fire Brigade rescued more than 900 people from one stranded train and water had to be supplied to passengers stuck on trains without air conditioning.
In a statement, Network Rail said: "We believe that track repairs carried out the previous evening, which required the conductor rail to be temporarily removed while the repairs took place, may have caused this to happen.
"A formal investigation into the circumstances surrounding this hugely disruptive incident will be carried out and we will make sure that lessons are learned.
"Once again, we would like to apologise to passengers for Thursday's disruption and thank them for the patience they showed."
On the day, passenger Freya Richard, who was stranded on a train between East Grinstead and Victoria for more than five hours said conditions had been "horrendous".