Retired vicar in Tottenham wins council tax fight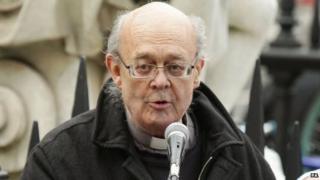 A retired vicar from Tottenham has won a case to highlight the inaccuracy of unpaid council tax enforcement costs.
Anti-poverty campaigner Paul Nicolson deliberately refused to pay his tax to Haringey Council as he suspected the costs, checked by magistrates, were inaccurate.
A High Court judge said magistrates had not had "relevant information" before them when making a costs order.
Mrs Justice Andrews said the case was of "significant public interest".
The 82-year-old retired vicar described the ruling as "game, set and match to the poor".
He said he bought the case because a £125 costs bill was a "very big penalty" in addition to the "inevitable council tax arrears" generated by thousands of benefits claimants in Haringey.
The case had implications across the UK, as about three million liability orders were granted by magistrates every year to councils in England and Wales, he added.
Judge Andrews said Mr Nicolson suspected the costs were being used as a form of penalty or deterrent, or as a means of covering the council's general administrative costs of collecting council tax.