Joseph Burke-Monerville shooting: Trio acquitted over murder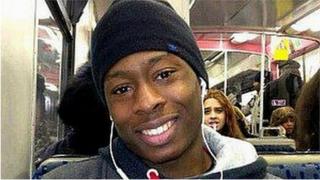 Three men charged with fatally shooting a 19-year-old in east London have been acquitted at the Old Bailey.
Joseph Burke-Monerville was killed when shots were fired into his car. His older brother was also wounded, but his twin brother escaped unharmed.
Shahed Nowaz, 19, of Feltham, and Scott Andrews, 27, and Roshane Reid, 21, both from Hackney, were charged with murder and two counts of attempted murder.
The trio were acquitted due to a lack of evidence, the court heard.
Single witness
At the hearing, prosecutor Simon Denison QC said the case hinged on a single witness.
He said after a review, held at a "senior level", involving the Crown Prosecution Service, police and himself it was concluded there was no longer a realistic prospect of conviction and judge Rebecca Poulet QC formally acquitted the trio.
He said: "There will be a further review after today of the procedures that have been followed to try to ensure this does not happen again."
Mr Burke-Monerville and his twin brother Jonathan were in the back of the parked car when three shots were fired into it in Hindrey Road in Clapton on 16 February 2013.
The 19-year-old, from Islington, was taken to hospital but later died.
Henry Grunwald QC, for Mr Reid, said it was "obvious" to anyone reading the papers that the Crown would have difficulty proving the case.
He said: "We welcome the decision that has been taken - it is the right one - but question why it's taken so long to arrive at this decision."