Colin McSweeny 'bludgeoned' son, court hears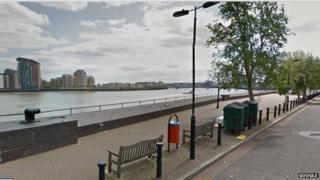 A retired fireman killed his adopted son and made a bungled attempt to dispose of his body, a court has heard.
Colin McSweeny, accused of hitting Shaun McSweeny over the head with a scaffolding pole, denies murder.
The Old Bailey was told the 24-year-old's body was found in the boot of his father's car the following morning.
Police had been alerted after Mr McSweeny, from Thornton Heath, south London, was spotted trying to dump him in the River Thames.
Opening the case, prosecutor Crispin Aylett QC told the court the 59-year-old allegedly killed his son because he was preparing to move out with his girlfriend and to take his five-year-old daughter with him.
'Sat chatting'
Until then the child had been living with her grandparents, Mr McSweeny and his wife Gloria.
They had hopes of gaining permanent custody as they did not consider their son a suitable parent.
Mr Aylett said that on 20 November last year the defendant allegedly lured his son into the garage at their home and repeatedly hit him over the head from behind with a scaffolding pole, fracturing his skull.
Afterwards he drove his son's van about half a mile away so it would not be spotted by Sarah Lavington, a police officer friend who was due to visit his wife that evening to celebrate her 60th birthday.
Mr Aylett said: "While Shaun's body lay in the defendant's garage, he and his wife entertained a police officer in their living room."
Mr McSweeny made the visitor tea and he and his wife sat chatting for a couple of hours, the court heard.
Bloodstained tarpaulin
Later that night he said Mr McSweeny tried to dispose of Shaun's body.
After 02:30 GMT, a witness in a flat overlooking Deptford Wharf saw man get out of a car, drag what looked like a body to the waterfront and try to lift it over the wall.
The witness called the police and officers spotted Mr McSweeny's car.
After a short pursuit they uncovered Shaun's body lying on a heavily-bloodstained tarpaulin in the boot.
Blood, a trail of coins and buttons and one of Shaun's shoes were found in Deptford Wharf.
The case continues.