Donor drive to find match for mixed-race child with leukaemia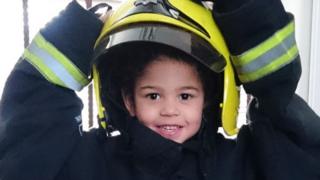 A London fire station is hosting a donor drive for the mixed-race son of a firefighter in the hope a life-saving match can be found.
Tommy Simpson, aged four, is of mixed white and Caribbean heritage, and was diagnosed with leukaemia in January.
He has been at Great Ormond Street hospital since, awaiting a potentially lifesaving stem cell transplant.
A donor registration event was being held on Saturday at Stratford Fire Station.
The event is being hosted jointly by the fire station and blood cancer charity African Caribbean Leukaemia Trust (ACLT).
Stem cells are found in bone marrow and also in the blood, as well as in umbilical cords.
Donors can usually donate by a similar process to giving blood, but in 10% of cases a procedure is carried out under general anaesthetic to donate bone marrow.
Less than 20% chance
White northern European, black African or Caribbean and mixed-race donors are being urged by Tommy's parents, Nigel Simpson and Maxine Francis, to sign up to the stem cell register, in the hope they can "save the life of a funny and beautiful little boy."
Tommy's mixed heritage makes it extremely hard to find a donor, as matching stem cell tissue types are inherited.
He is an only child and nobody in his extended family is a genetic match.
Mixed race people like Tommy have less than a 20% chance of finding an unrelated best possible match; as do individuals who are black or from a minority ethnic background, according to ACLT.
Just 3% of donors on the UK stem cell register are mixed race.
A social media campaign to find a donor for Tommy has also been launched, using the hashtag Match4Tommy.