LU to replace Tube staff's blunder boots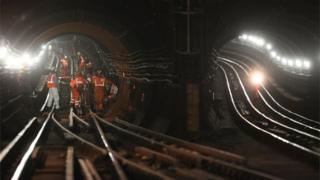 New boots issued to thousands of London Underground's (LU) Tube workers are not fit for purpose and will have to be replaced, it has emerged.
In an email sent to all staff, bosses admitted there is an issue with new boots worn by staff as they contain metal "above the insulated sole and beneath the insole".
Station staff can work close to electricity supplies, and LU's specification for footwear "asks there is no metal parts".
The email reads: "It is safe to continue to wear the shoes but if there is any puncture of the sole or any excessive wear of the tread, the shoes should be discarded and replaced... controls already in place mean it remains safe to wear the shoes... remember when accessing the track traction current will be switched off."
It goes on: "We are working with our supplier to rapidly replace all shoes."
In a statement Transport for London said: "The cost for replacing the shoes is being determined but TfL won't be picking up the cost."