PC Gordon Semple death: More time to quiz murder suspect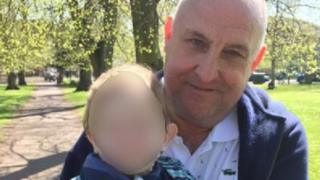 More time has been granted to question a man suspected of killing a policeman who was missing for a week, the Met has said.
Human remains were found at a flat on the Peabody Estate in Southwark Street, close to the Shard, on Thursday.
PC Gordon Semple, 59, was last seen on 1 April when he had a meeting at the Shard and again on nearby Great Guildford Street.
The 49-year-old man was arrested from the flat on suspicion of murder.
He can now be held in custody until Sunday evening.
On Friday Met Commander Alison Newcomb said it would take "some time" to establish a cause of death and carry out formal identification, due to the condition of the remains in the flat.
In a statement, Mr Semple's partner Gary Meeks and brother Ronnie said: "It has been a terrible time for us all, especially Gary... Gordon was a much loved partner, brother, brother-in-law, uncle and cousin and our world will be a worse place without him."
The officer left his home in Greenhithe, Dartford, last Friday and was last seen in the London Bridge area following a work meeting at the Shard's Shangri-La Hotel, which he left at about 12:30 BST.
Mr Semple, originally from Iverness, had worked for Bank of Scotland before becoming a police officer 30 years ago.
His LinkedIn profile describes his most recent Met role from November 2012 as a business crime reduction adviser.