Custody officer Lorraine Barwell's head 'kicked like a football'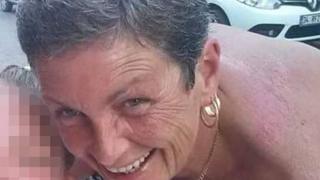 A man accused of killing a custody officer kicked her in the head "like a footballer kicking a ball", a court has heard.
Humphrey Burke, 23, was being escorted at Blackfriars Crown Court when he attacked Lorraine Barwell in June 2015.
A fellow guard told a trial of facts at the Old Bailey Mrs Barwell's head "snapped back" when he kicked her.
Mr Burke has been found unfit to plead to a charge of murder after being diagnosed with paranoid schizophrenia.
The trial is being held to decide whether he committed the alleged acts, but jurors will not rule on Mr Burke's guilt.
Gia Sofokli was one of three female Serco officers escorting Mr Burke, 23, from Oxford, to a prison van after he appeared in the dock at Blackfriars Crown Court.
As he was being led from his cell, Burke, who had admitted attempting to rob two bookmakers, appeared to collapse while handcuffed to 54-year-old Mrs Barwell.
Mr Burke kicked out at Mrs Barwell twice as she tried to control his head from the front, the court heard.
Giving evidence on Wednesday, Ms Sofokli said it was her first day as a prison custody officer for Serco and she was standing half a metre away when the attack occurred.
She said Mr Burke pulled back his leg and kicked Mrs Barwell, who "fell backwards about half a metre in front of me".
"She screamed quite loud and then it was about two seconds before he swung again with his foot but this time it got her in the face", Ms Sofokli said.
"She was on the floor in a foetal position. I saw it and I heard it. It looked like a footballer kicking a football really hard.
"The noise was quite loud. Her head went back but it did not smack the floor. It just snapped back. He was looking straight at her."
She said she went into shock after she looked down and saw Mrs Barwell's injuries.
The trial continues.