Girl, 13, hurt as shots fired at car in Bethnal Green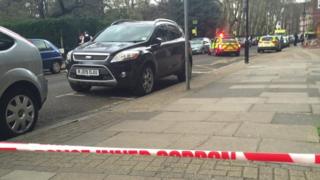 A 13-year-old girl was injured in east London when a gun was fired at the car she was in.
Police were alerted when the owner of the car went to Bethnal Green police station to say shots had been fired at his car in Cheshire Street.
Officers administered first aid to the girl, who suffered minor injuries, at about 17:50 BST on Wednesday.
No arrests have been made. Several roads were sealed off around Victoria Park Square, where the car was parked.
'Pool of dark liquid'
The grey Mitsubishi was parked near the police station, witness Sarah Woolley told .
"I was opposite the police station when a man in a red T-shirt was assisting police officers by pointing at a car and pointing down the road," Sarah Woolley, who works nearby, told the Evening Standard.
"The car was a grey Mitsubishi parked opposite the station. It was facing in the wrong direction. Its sides were dented in and there was a big pool of dark liquid under the car. It wasn't clear who it belonged to," she said.
Police said the girl and the man who took her to the police station were "known to each other", although the spokeswoman would not comment on the relationship.
She is being treated in an east London hospital.
Officers have appealed for witnesses.