Plane Stupid Heathrow tunnel blockade activists fined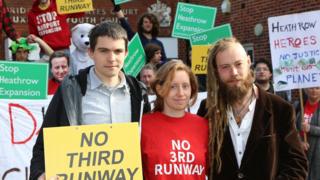 Three activists showed a "spectacular lack of consideration" after blockading the main tunnel leading to Heathrow airport, a court has heard.
The Plane Stupid protesters admitted causing four hours of disruption in November last year.
Alistair Cannell, 26, and Esme Waldron, 23, both from Brighton, and William Pettifer, 27, from Radford, Somerset, were each fined £200.
The trio insisted their actions were justified given the "climate crisis".
Seventy five people missed flights because of the action from group Plane Stupid, which protests against aviation expansion, the court heard.
More on this story and other news from London
A van was driven into the main tunnel leading to terminals 1, 2 and 3 causing a blockade.
The protesters chained themselves to the vehicle for more than four hours, Uxbridge Magistrates Court heard.
The judge said they had shown a "spectacular lack of consideration" for those undertaking journeys.
Ms Waldron said: "We're really sorry to people we held up on the day but given the context of the climate crisis we're in at the moment our actions are justified."
A spokesperson for Heathrow said it supports the right to peaceful protest, but added: "Anyone who breaks the law, puts safety at risk and disrupts our passengers and colleagues will face prosecution."
A crowd gathered at the court in support of the protesters, including members of the "Heathrow 13", who were given suspended jail sentences in February for blockading the runway last summer.