Paralympian Tim Farr is reunited with stolen bike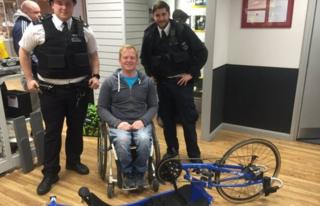 A paralympian has been reunited with his specially adapted bicycle after it was stolen from outside his home.
Team GB skier Tim Farr's £5,000 handbike was found after a social media campaign.
It had been sold for £150 at a Cash Converters shop in south London.
Mr Farr, who was a member of the British Disabled Ski team at the Vancouver Paralympics in 2010, thanked people on social media for finding the bike.
On Facebook, he wrote: "Thank you again to all the amazing people, those who I know and don't, who shared my posts in the search of my stolen bike.
"It has been an amazing couple of days and has restored my faith in humanity."
He said his original call for help had been shared more than 3,500 times and that celebrities and MPs had helped with retweets.
The bike was taken from his car parked outside his home near Balham, south-west London, at about 04:00 BST on 21 April.
Police retrieved the bike after being alerted via social media by people who had spotted it in the shop.
More than £1,700 was raised on a crowd funding website to pay for a new bike for the skier.
This money will now be donated to charity.