Frederic Russell admits manslaughter of Colin Hammond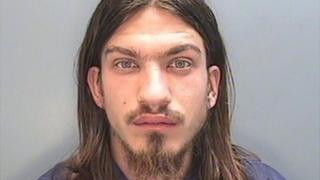 A man with schizophrenia has pleaded guilty to the manslaughter of a 65-year-old on the grounds of diminished responsibility.
Frederic Russell, 30, stabbed Collin Hammond in October 2012 as he walked in Putney, west London. Mr Hammond died from a single stab wound.
In 2013, Russell was deemed too unwell to stand trial so a jury instead ruled that he carried out the stabbing.
His health has now improved so he was able to plead at the Old Bailey.
He has now been sentenced indefinitely to a hospital order under the Mental Health Act.
Det Ch Insp Jamie Piscopo said: "It is still not clear what triggered Russell's attack on Colin Hammond.
"What is clear is that this was a violent attack carried out by Russell in broad daylight which resulted in the death of an innocent man."