Vauxhall Station fire: Ongoing disruption follows blaze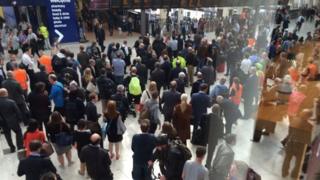 Rail passengers have been told to expect delays until services end on Thursday following a fire on the tracks at Vauxhall station.
The blaze broke out in signalling cables under one of the platforms in central London shortly after 02:30 BST.
Travellers were left stranded at stations across the network, but South West Trains said a normal service will be in operation on Friday.
The company and Network Rail apologised "for the inconvenience".
South West Trains confirmed that tickets valid for travel on Thursday would be accepted for use on Friday.
Only four out of eight lines into the station were open for most of the day due to the fire. All lines reopened at about 21:30 on Thursday.
Network Rail said it suspected the fire was caused by a spark from a passing grinder train that was smoothing out worn rail tracks.
Commuter Sam Cooper tweeted that Waterloo was at a standstill at 17:30 BST: "Absolute chaos getting out of London tonight!"
Another passenger Neil Ord said the travel information boards and the train apps were giving out different information, "adding to the chaos".
Passengers on South West services into and out of the city were earlier advised to travel only if "absolutely necessary" and to use alternative routes where possible.
Commuter Mark Matthews said at 16:55 BST: "Currently stuck waiting for any train home at Clapham Junction. Any train at all would be nice."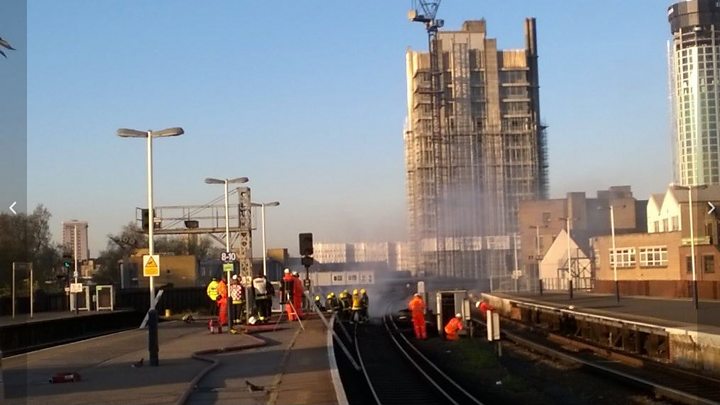 Earlier Clapham Junction station was temporarily evacuated and shut because of overcrowding due to the knock-on effect of the fire.
Mick Cash, leader of the Rail, Maritime and Transport (RMT) union, said he had received reports from members of "dangerous overcrowding" on trains and at stations.
Manuel Cortes, leader of the TSSA rail union, called for the rail regulator to hold an inquiry into the "severe levels of overcrowding" in London and the South East following "chaotic scenes" during the morning rush hour.
"Incidents will happen on the busiest lines in the country, but passenger safety must come first at all times," he said.
London Fire Brigade confirmed the fire was put out by 08:20 and an investigation into its cause was under way.
'Buses weren't stopping'
Chris Hills was among those evacuated from Clapham Junction earlier and told BBC News the manner in which the message was broadcast caused anxiety for some passengers.
"For many commuters, including myself, as we listened to these almost aggressive sounding instructions to 'get to an exit immediately'... images of Paris and Brussels came to mind.
"We were being instructed for six to seven minutes by voices that sounded panicky and gave no explanation as to why we needed to evacuate as quickly as possible, until a calm voice explained the mass congestion was the cause," he said.
Gabriella Calderon, travelling from her home in Surbiton to her work place in North Greenwich, said she was stranded without any information at Surbiton station.
"The staff were very unhelpful and complaining about having to repeat themselves to commuters. I eventually was told to go to Wimbledon via bus and take the District Line to Westminster and then the Jubilee Line to North Greenwich. My commute this morning took a total of three hours."
She said as the fire had been causing problems for three hours before she arrived at Surbiton station, staff should have been ready with information and advice for commuters by morning rush hour.
Silvia Mendes was trying to get on a bus after Clapham Junction was evacuated and said: "Buses were so full they weren't stopping.
"Clapham Junction was a sea of people and I can only expect the same this evening."
Vauxhall Station: Facts and figures
Vauxhall Station is a busy hub as it links Waterloo and Victoria stations
London Underground services at Vauxhall are used by 84,000 people on a week day, and 26.8m people each year
National Rail services at Vauxhall Station are used by more than 21.1m people each year
Clapham Junction, which was closed earlier due to overcrowding, is the busiest station in the country for interchanges between services
South West Trains coming into London stop at Vauxhall shortly before Waterloo
Vauxhall bus station is the second busiest London bus station after Victoria