Four guilty of 18-year-old's knife murder in Hoxton metres from home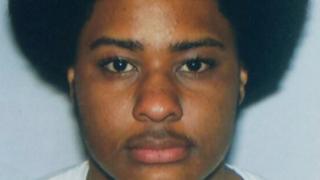 Four men have been found guilty of murdering an 18-year-old who was repeatedly stabbed in a "ferocious" gang killing close to his home.
Marcel Addai, 18, from Hoxton, north London, was attacked on 4 September 2015 on the St John's Estate in Pitfield Street in Hoxton.
Sheku Jalloh, 23, Rikell Rogers, 21, Sodiq Adebayo, 23, and Momar Faye, 19, were convicted at the Old Bailey.
Hoxton Boys and Fellows Court gangs rivalry led to the murder, jury heard.
Adebayo, 23, from Worthing, West Sussex; Rogers, 21, from Colchester, Essex; Jalloh, 23, from north London, and Faye, 19, from Hoxton, had all denied murder. They were convicted by a majority.
'Brutal and ferocious' attack
The victim was connected with Hoxton Boys gang while some of the defendants had links to Fellows court gang, jurors heard.
On the day of the killing Adebayo was driving a Mercedes and as he pulled up, Marcel Addai and his friends who were in the area scattered.
While his friends got away the teenager was cornered and attacked - repeatedly stabbed and slashed in the chest and thigh, the court was told.
Prosecutor Mark Heywood QC said: "It was not one blow - they kept at their work until he was mortally injured, driving the knife or weapons into him, aiming for chest and thighs and so for vital vessels and organs."
The "brutal and ferocious" murder was deliberately staged in front of Mr Addai's friends and neighbours, who lived in Evelyn Walk which was about 200 metres from where he was fatally attacked.
Three others Akeem Gbadamosi, 22, from Clapton, east London, Eugene Ocran, 19 of north London, and David Oladimeji, 21, from Ilford, north London, were cleared of murder, a charge they denied.
Following the verdict Det Ch Insp Andy Partridge said: "This was a targeted attack that required a level of planning. Those convicted travelled to the estate where Marcel lived with the clear intention of inflicting serious injuries to anyone who was present.
"This senseless violence has taken another young life and left a family devastated."
The killers will be sentenced next week.