Ben Butler trial: Accused 'devastated' when Ellie taken into care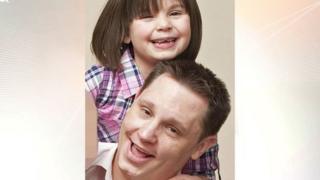 A man accused of beating to death his daughter in a fit of rage said he was left "devastated and bamboozled" when she was taken into care in 2007.
Ben Butler, 36, was found guilty of assaulting Ellie at seven-weeks-old but the conviction was quashed in 2010.
He fought for custody and she was returned to the family home in Sutton, south-west London, in November 2012.
Ellie, six, was found dead 11 months later in her bedroom. Mr Butler denies murder and child cruelty.
Prosecutors said Mr Butler had a volatile character and was often on the brink of losing his temper.
He has a string of convictions for assault, including two attacks in public on his ex-girlfriend, both of which he admitted.
'Birth-related injury'
Jurors at the Old Bailey heard before Ellie's birth, Mr Butler had been in a casual relationship with her mother Jennie Gray, 36.
The court was told he initially believed becoming a father was the "kiss of death" but changed his mind once his daughter was born and thought she was "amazing".
He told the court how interacting with other people's babies was "boring" but with Ellie, "I felt it was completely different. I was really proud of her."
Mr Butler recounted the circumstances surrounding the injuries Ellie sustained as a baby, which led to him being falsely accused of assaulting her.
He said Ms Gray had brought their daughter over to see him and he noticed she looked "sheet white".
A hospital doctor later told them their daughter would be fine but had "bruising on the brain" from a "birth-related" injury.
'Biggest mistake'
Mr Butler told the jury he requested Ellie be moved back to a local hospital which was "the biggest mistake I have ever made".
He said doctors there did not accept her brain injuries had been caused during birth and Ellie was made the subject of an interim care order.
He said: "I was devastated because we couldn't understand why when the other hospital says one thing and another hospital says another.
"It never fitted. We were bamboozled by what was happening."
Mr Butler and Ms Gray both deny child cruelty. Ms Gray has pleaded guilty to perverting the course of justice.
The trial continues.