Man held on suspicion of murdering Croydon hospital nurse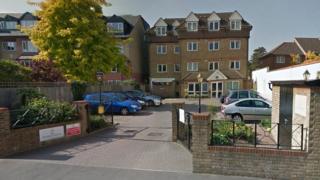 A man has been arrested on suspicion of murdering a nurse at a private hospital in south London.
The member in staff, who was in his 60s, was stabbed multiple times at Southleigh Community Independent Hospital in Croydon on Thursday.
A man believed to be a patient at the hospital was arrested and is being treated elsewhere for a hand injury.
The hospital said the nurse was a well respected member of staff. A post-mortem examination is due on Saturday.
Police said a 40-year-old man was held and they were not looking for anyone else in connection with the death.
A spokesman for the hospital said: "We are greatly saddened to confirm that a member of staff lost his life yesterday following an incident in the hospital.
"Our deepest sympathies are with his family, friends and colleagues. He was a valued and respected member of staff who will be deeply missed."
Southleigh Community Independent Hospital is a private medical facility for 25 patients that provides treatment and rehabilitation for adults with long-term mental health problems.