Streatham Kite Festival flies crocodile, dragon and octopus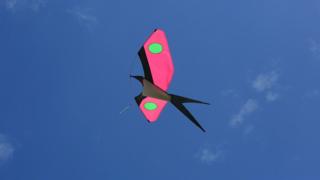 A crocodile, colourful birds, a dragon and an octopus have filled the sky in kite-form above Streatham Common in London.
The free annual festival, now in its 18th year, is run by volunteers from the Friends of Streatham Common group and takes place in the green.
Volunteer Ben Kolb said the aim was to create a "fun community event" where people could get to know their neighbours and local traders.
"People are encouraged to bring their own kites to fly and can pick up tips from experts showing off their kite flying skills, and you can watch the displays too," he said.
Kite-fliers of all ages also got tips on what kind of kite they should buy and how to avoid getting them tangled.
This year there were 10 teams of experts taking part in the event, including teams from Southampton, Kent, Brighton and Epsom Downs.