Marcel Addai: Four jailed over gang stabbing murder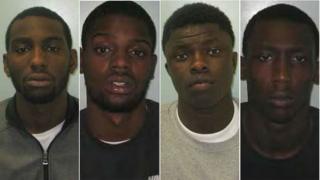 Four men who murdered an 18-year-old by repeatedly stabbing him in a "ferocious" gang killing have been jailed for life.
Marcel Addai, 18, from Hoxton, east London, was attacked last September on the St John's Estate in Pitfield Street.
Sheku Jalloh, 23, Rikell Rogers, 21, and Sodiq Adebayo, 23, were ordered to serve a minimum of 25 years.
At the Old Bailey, Momar Faye, 19, was ordered to serve a minimum of 22 years.
Their trial heard Hoxton Boys and Fellows Court gangs' rivalry led to the murder.
The victim was connected with the Hoxton Boys gang while the defendants, Adebayo, from Worthing, West Sussex; Rogers, from Colchester, Essex; Jalloh, from north London, and Faye, from Hoxton, had links to Fellows Court gang.
On the day of the killing Adebayo was driving a Mercedes and as he pulled up, Marcel Addai and his friends who were in the area scattered.
While his friends got away the teenager was cornered and attacked - repeatedly stabbed and slashed in the chest and thigh.
The "brutal and ferocious" murder was deliberately staged in front of Mr Addai's friends and neighbours, who lived in Evelyn Walk, which is about 200m (650ft) from where he was fatally attacked.