London butcher's job advert calls for 'no drama queens'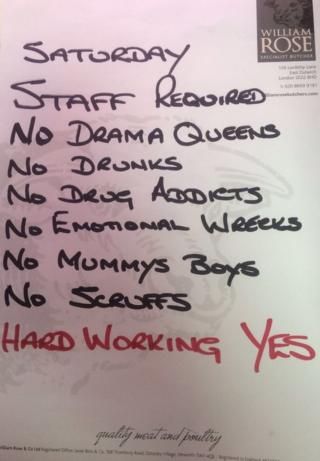 A job advert at a London butchers calling for "no drama queens" and "no mummy's boys" attracted applications after previous appeals were met with little response.
William Rose Butchers, in Dulwich, received 18 applications in a day, after the advert was put in the window.
Owner William Rose, 60, said he had been advertising the position for a month with little interest.
The advert also calls for "no emotional wrecks" and "no scruffs".
Mr Rose told BBC Radio London: "We did it as a fun thing first. We had advertised for about a month, and we had two or three scruffy oiks and I thought 'No'."
'Just for fun'
Defending the "just-for-fun" advert, Mr Rose said he had had people apply who struggle to talk to customers and who have smelt of drink from the night before.
"A butcher's shop is quite hard work. It's an early start. A lot of them don't survive, there doesn't seem to be the work ethic," he explained.
"With drugs now, they have become such a social thing. It's become too acceptable.
"We had one applicant with so many A stars and was going to go on to uni. But the only broom he has ever seen is probably in Harry Potter."
Only one aspect of the advert has been flagged up legally according to Mr Rose: "We had one employment lawyer say, 'You can't put mummy's boys you have to put mummy's persons'."
But the advert did lead to a successful appointment, with Mr Rose saying he has taken on "a very smart young lad with a little family to keep".