London's pedicabs to be regulated to target 'rip offs'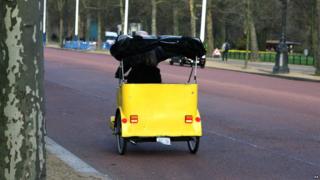 Pedicab drivers in London will be regulated in an attempt to stop passengers being "ripped off" by the charging of "extortionate fees".
The Department for Transport (DfT) said it wants to target around 400 unregulated vehicles.
Transport for London (TfL) will have new powers set out a reasonable amount to charge for a short journey and impose minimum safety standards.
A spokesman for the pedicab industry said such regulation is "essential".
Chris Smallwood at the London Pedicab Operators Association said he fully supported the removal of "rogues from London's streets".
He added: "We will work with the authorities to ensure that the proposed licensing is workable and will allow the reputable part of the industry to flourish."
'Sharp practice'
The Met Police currently has the power to sanction unregulated pedicabs with civil injunctions, but the plans would give TfL new powers to crackdown.
The DfT wants to produce legislation in the next year.
Outside London, pedicabs are classed in the same way as taxis, meaning they are regulated.
But in London different laws operate so the government is acting to close the loophole, said the DfT.
Transport Secretary Patrick McLoughlin said: "It's totally unacceptable for passengers to be taken for a ride by pedicab drivers and charged rip-off fares and carried in dangerous vehicles."
"More often than not it is tourists who feel the brunt of sharp practice from pedicabs, which gives visitors to Britain a distorted impression of our national sense of fair play."
He said the move would make roads safer and ensure unlicensed vehicles have to meet minimum standards "just like taxi drivers".